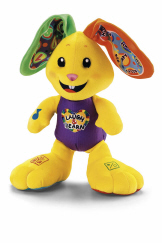 The bunny is going to be sad. My wife says so.
See, the bunny is dangerous to the baby. The bunny's nose can come off and kill the baby. This can't be, so we have to send the bunny back. They promise to send us a voucher to use to purchase another toy of our choosing.
But my wife says the bunny will no longer be serving his intended purpose when he is thrown away. She says the bunny will be sad. I told her the bunny will get to hang out with lots of his friends, maybe even some nice guys he met on the manufacturing line or some of the fun fellows he hung out with on the shelf at the store. She says he'll still be sad.
I really don't know what to say to that.
Here's the whole story:
Bunny Recall